My Fitness Journey
It all started in 1989 when I was working the front desk of an old powerlifting gym. You know the kind… dirty, loud and swarmed by giants. I was the little guy. Turns out the giants were "gentle giants" and took me under their wings.
I learned more about the application of big compound lifts and the application of food from the powerlifters and bodybuilders than all of my college education. I spent my time in school learning why these applications worked so well and the chemistry and biology behind the application. I was a nerd (still am). It helps to have a directive and passion in college.

The first gym where as a fourteen year old kid, the members and employees really took me under their wing and taught me a lot!
One day, a local ENT doctor came in and asked me, 'the little guy" at the front desk if I could help his out of shape son learn how to exercise. Paid me ten bucks an hour.
At that time for someone my age, that was great dough! I had no business being a trainer. But shoot, what was a trainer anyway? Only celebrities had trainers.
So it Begins
Turns out, I really enjoyed empathizing with his needs and finding a way to make the sessions productive and rewarding for the kid.
I was hooked. I was also very fortunate to have a profound and well educated athletic trainer (who was also a world record powerlifter) take me under her wing and teach me the next level of training.
There were two other national level bodybuilders who also continued to teach me about eating well and eating for competition. They were instrumental in laying the foundation and passion for how food affects us.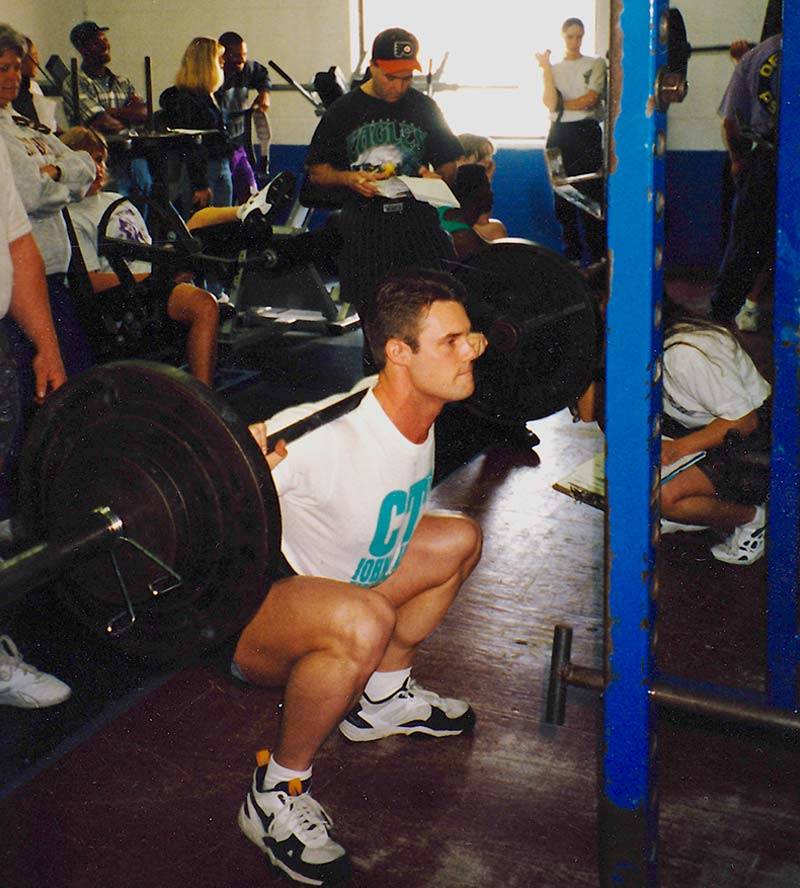 A competition called "Burke's Olympics". One of the events was to squat your body weight for a max number. I believe that was 175 lbs on the bar, which I was able to squat 41 times. I was crazy stubborn, but I won!
I continued to always have clients throughout all of my schooling and onward. I then proposed and helped develop the personal training program for University of Delaware's student fitness center while an undergraduate and graduate student.
As a student, I was focused on only the courses that would help me truly understand the human body's response to food and exercise.
I "married" the two majors of nutritional sciences and exercise physiology. That curriculum exists now but did not in the mid-nineties.
The chair of the department was ecstatic to allow me to exchange "basket weaving 101" for advanced level biochemistry classes and physiology classes.
I was on a roll. I didn't miss a beat and went directly from my last semester as an undergraduate to my first semester as a graduate student.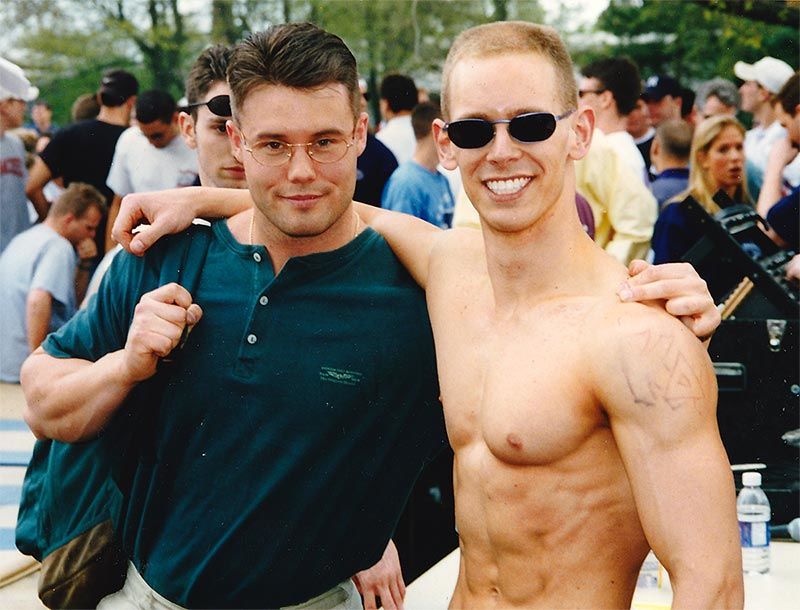 During college, I put a lot of fraternity and sorority members on stage for what was called "looking fit." This individual followed everything I told him to eat to a tee and rocked the competition!
A Major Setback
I was enjoying my time in the graduate program with the perception of smooth sailing. I was even co-authoring some great research.
Then the dean of the graduate department threw up a roadblock and I came to a screeching halt. She stated that the graduate classes taken during my undergraduate years did not count toward my graduate degree. I would need to repeat them.
There was definitely some friction.
She even stated "you'll never make it in this industry" because of my unwillingness to follow their system.
Last I checked, ambition was rewarded.
So, the hot-headed 23-year-old version of myself, walked away angry and never looked back.
That was a mistake as I should have fought the issue. In my mind, I had already absorbed the information necessary to fulfill the requirements.
This is still a regret.
Back to the Gym
By 1998 I was the Fitness Manager at a local health club. I turned their personal training program into a productive and profitable machine. I figured out how to be successful in this industry.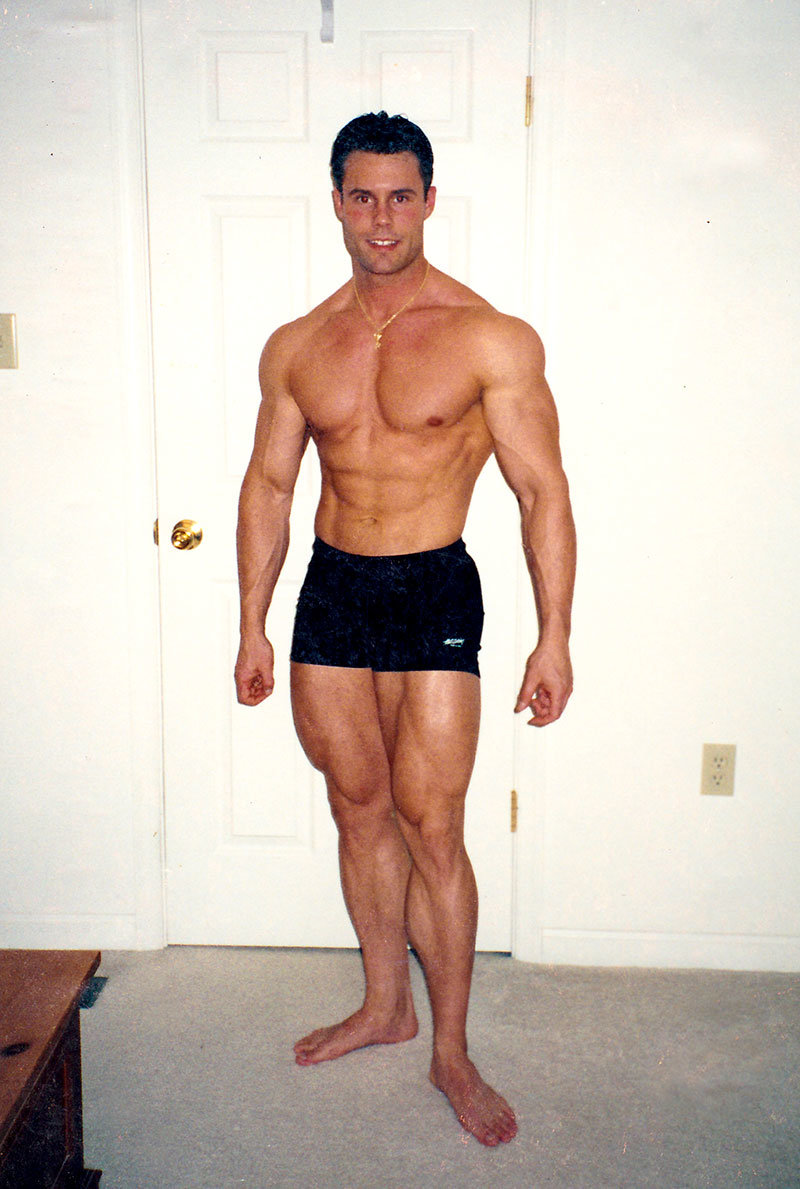 Me at 26. I decided to do the old EAS body for life competition with my wife and as a method of social proof that I knew what I was doing as a trainer. I have zero desire to body build, but this was fun and not too difficult.
My First Venture – Figure Skaters
Finally, in 2000, my wife Rose and I founded Paradigm Fitness. She was a senior lady figure skater at the time and I recognized an untapped niche in the figure skating world.
Skaters were not being trained off-ice to counter their sport and keep the joints balanced.
I spent a lot of time learning the mechanics of the sport and developed a strength training system that kept their joints in balance, minimizing injuries and maximizing strength and stamina on ice.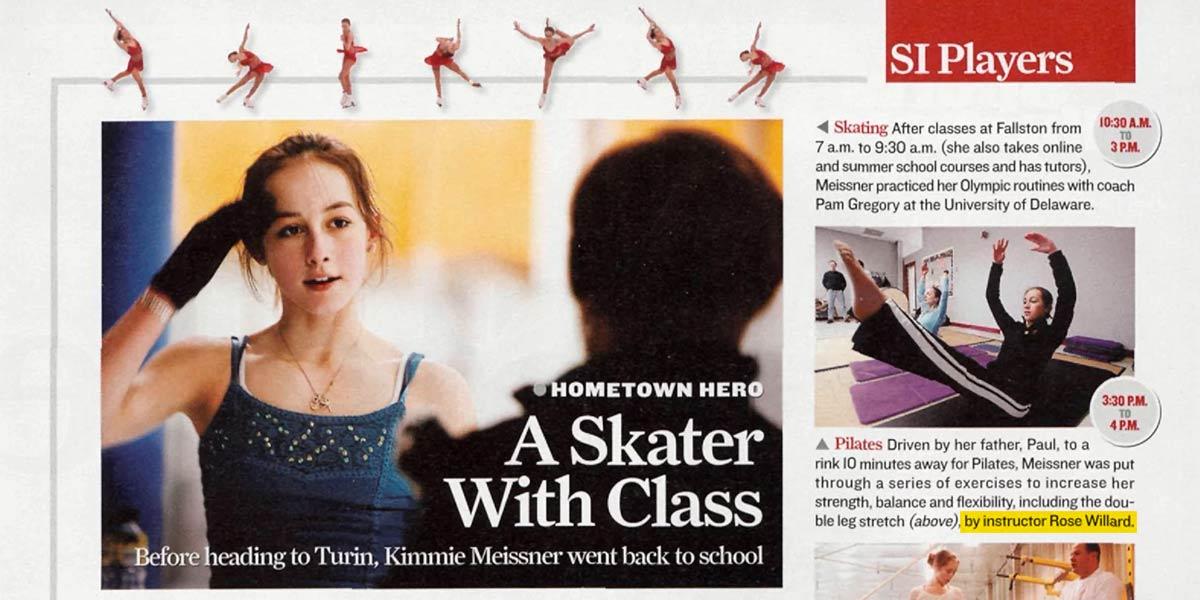 One of the Olympic figure skaters we trained was featured in Sports Illustrated. Her workout with Rose made it into the article.
It worked so well, that I was fortunate to be able to work with the World and Olympic figure skaters.
United States Figure Skating even sent me to the Olympic Training Center for a week to learn more and work with their trainers. What a great opportunity!
Growing Market
The business grew outside of the skating niche (back to my roots). Now Paradigm Fitness has many trainers and a Doctor of Physical Therapy on staff.
Our clients have evolved into post-rehab and older adults (now that I'm in my mid-forties, I can relate). As you can imagine, over all of the years, there's very little I haven't seen or heard.
Getting Online
For the longest time, my good friend (who was also a trainer and now a web aficionado) tried to get me to start a blog and share my years of education and experience with more people.
He always said, "think Glynn, you can help a lot more people than just Paradigm clients!"
Well, he finally got through to me and thanks to his encouragement, now it's time to take my education and experience to the masses. Thank you for being part of that group!
My Philosophy as a Blogger
I have seen the trends come and go over my many years as a trainer and writer. I've learned not to follow the crowds, but instead, to question everything. Such as what type of research, who has funded it, how does the money flow, is it hearsay, is it tried and true, etc.
I realize that individuals want and need to make an improvement to their health and fitness.
But more importantly, they want to feel comfortable with the information disseminated.
Exercise and eating well is not perceived by everyone to be enjoyable, so I make a real effort to figure out what makes people "tick" and find a way for them to not only make progress but genuinely feel better.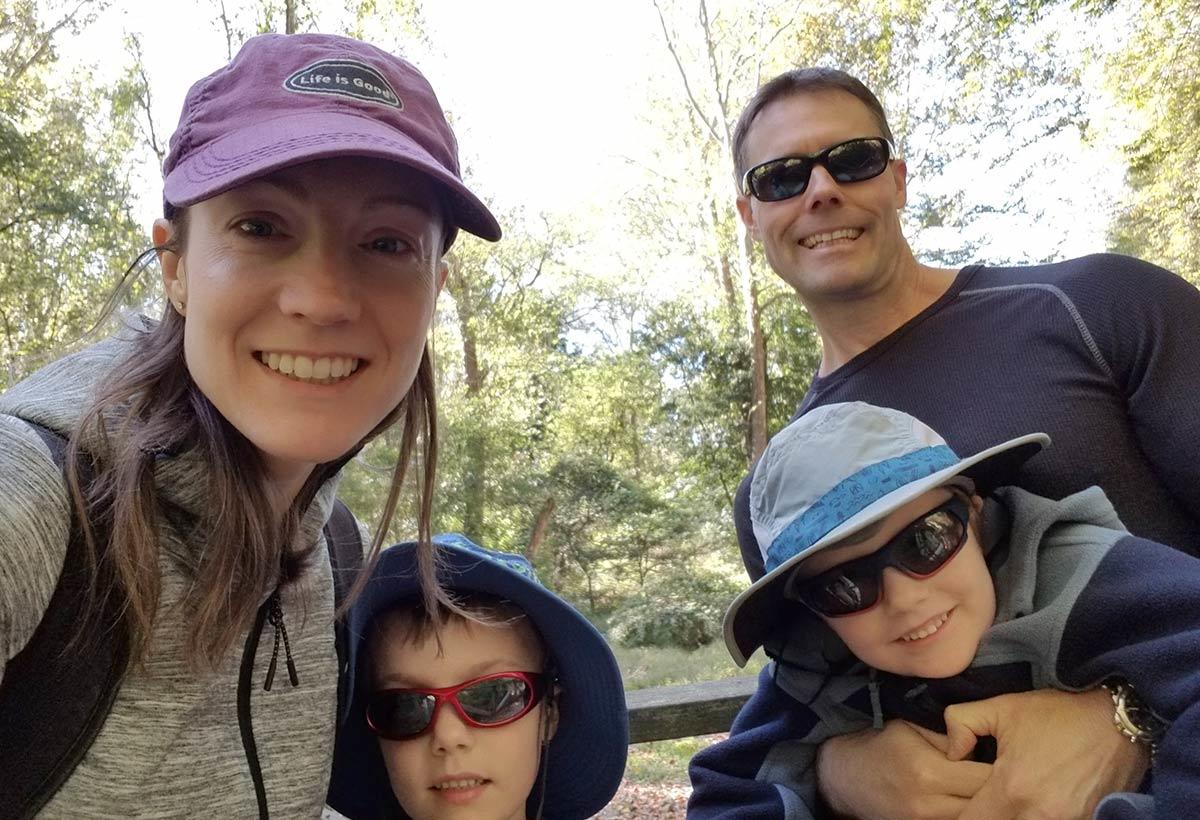 When Not a Personal Trainer
I spend as much time as I can with my wife and two boys. I love to hike and camp when time permits, preferably with the family.
I've formed an early morning hiking group in Pennsylvania, where we share in great conversation while exploring the hills. I'm also an avid reader of both fiction and nonfiction (exercise for the brain)!